PPC Management Company Delhi India
Centaurhosting a PPC management company from New Delhi, India offers Pay Per Click (PPC) bid account management services and PPC campaign management. PPC is an acronym for Pay Per Click. Pay per click search engine marketing allows advertisers to purchase visitors or "clicks" usually from a search engine on cost per click basis. PPC ads appear at the top, right or bottom of organic search results shown by search engines. The first step of PPC search engine management is to choose the keywords that should be displayed when a search is performed and then decide how much to pay each time the PPC Advertisement is clicked upon.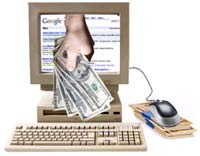 Rankings are calculated for keyword phrases based primarily on the price that is being paid. The more you agree to pay per click (or bid) for a specific keyword and the more effective your Ad, the higher your site will rank in the paid search results.
Can you do Pay per click (PPC) Management yourself? It is true that you can play around with the ads and keywords. But you probably lack the experience, time and knowledge to optimize your wording, bid on prices effectively and manage your campaign on a daily basis. If you are ready for professional PPC management services, please continue reading this page.
Our PPC Search Engine Management Services and Process
Centaurhosting (PPC campaign management company Delhi India) follows the process below as a part of our PPC search engine management services.
Identifying your online business objectives and different products and service offerings.


Picking up the right keywords based upon data - what your prospects are searching for and how often? Calculating the relevance percentage for a particular keyword in relation to the most relevant keyword to you.


Creating attention grabbing titles and description on the basis of AIDA principle (Attention, Interest, Decision, Action).


Tweaking the wording of your PPC campaign Ads to determine the best arrangement of words. Make sure what matching options are available and run your ads accordingly.


Maintaining cost per click (CPC) strictly within the specified upper limit while focusing on less competitive but targeted keywords.


Using click through rate (CTR) and cost per click (CPC) to track the progress of your Pay per click search engine marketing campaign.


Monthly monitoring of competition for specific key words and costs and reporting placement rankings to customer.
Pay Per Click Campaign Advantages
The results of PPC campaign management are instant. PPC ads go live immediately and can be modified, added or deleted at any time.


PPC advertisements don't require any modifications on the website and hence Pay per click search engine marketing is an effective search engine marketing model for sites which are architecturally difficult to modify for SEO. For example, even if your site is in Frames, you can still avail PPC campaign management for the site and the ads would appear.


PPC advertisers can decide what keywords they want to bid on and pay only when someone clicks on the advertisement. As your PPC management company we will do thorough research on keyword usage and trends and present the data for your approval.


In pay per click search engine marketing, PPC advertisers can choose the exact geographic location for the display of their PPC ads.


PPC search engine management allows advertisers to adjust the maximum bid limit based on the profitability of the campaign. Accurate Stats can be obtained and the effectiveness of the PPC campaign can be measured.


Useful Links
Spend dollars on buyers

Maximize ROI and get high profits at low investments. Centaurhosting PPC bid account management services are individually customized for major search engines. To cover a large spectrum of site visitors, we have formulated specific procedures for PPC advertising in Google, Yahoo and MSN.