Link Popularity Building Services Company Delhi India
Centaurhosting is a Link Popularity Building Company from Delhi India and has plenty of experience in providing Link Popularity Building Campaigns that are customized according to the website's Internet Marketing Strategy.

Link building Delhi India services or Link building campaigns improve website traffic by getting relevant web sources to link to you. Link popularity building helps increase the number of visitors to your site through direct referrals (people clicking on the links) and also effects your rank in search engines.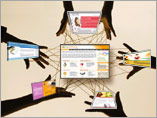 Links from quality web pages of similar topic help web visitors find information about your company products & services thereby driving traffic to your website. Moreover, each link is regarded by search engines as a vote that is given to your site from another page of similar theme. Proper anchor words of the link increase the relevance of your web pages to those keywords. The number of popular links or votes from authority sites is one indicator of your website quality and usually effects your rank in SERPs.
Outsource Link Building to India
If you outsource link building to India your company will have an unparalleled cost advantage. You can outsource link building on project-basis or hire dedicated link builders on period-basis from us. We have optimized our quality link building services to get you themed links that disseminate information about your company to the Internet community and help improve your rank in search engines. Our link popularity building services and awareness building campaigns are designed according to your site's content. Link Popularity Building Service can be used alone or in conjunction with any of the other search engine optimization services offered by us. Outsource SEO Link Building services to India in order to increase awareness about your website and your rankings in the major search engines - at affordable cost.
Site Awareness Building or Link Popularity Building Methodology
Our theme based link popularity building services involve a combination of carefully selected website announcements, postings, submissions, link requests and website introductions. Our Link building company Delhi India seeks permanent links only on similar theme pages that have a good chance of getting clicked by visitors, as this ensures relevant incoming traffic as well as high search engine rankings. Link building campaign usually involves the following.
Identifying and creating a variety of relevant keyword rich link names that will attract customers to the website.



Invite Links through Content Improvement:

Suggestions on creating unique content that is beneficial for site visitors thereby automatically drawing webmasters to naturally place a link to your site.



Article Publishing:

Getting articles published in E-Zines, Web-zines and E-digests is a great way to inform, educate and demonstrate authority to online customers. Posting your articles on websites also helps link building, as most sites allow a link to your site within the text or signature of the article.



Press Releases:

We publish latest happenings at your company on news web sites, Internet magazines, news groups, announcement sites etc. Many of these sites allow a link back to your site where the visitor can find more details.



Human reviewed directories:

Human edited directories usually offer better informative links to their visitors. Search engines do not like purchasing links just to influence SERPs, therefore we suggest free unbiased human edited directories and a few that charge only for quicker review but with no guarantees.



Message Forums and Blogs:

We add a domain name link within the signature line of posts that you want to make on message boards and blogs. Postings and announcements that inform web visitors are made only on high quality sites that pertain to the essence of your own website's content.



Directories and Trade Portals:

Submission to similar trade directories, web guides, country specific portals, new syndicates, popularity trackers etc.


Reciprocal Link Trading of links between two websites of similar theme that will be beneficial to visitors of both sites is called Reciprocal Link Building. We conduct research to identify sites of similar topic. To achieve excellent conversion rates we manually contact each of them to establish a dialogue and request link exchange from relevant pages.


We DO NOT get or recommend links from complicated Javascript, redirect scripts, framed sites, FFA, Link Farms, SPAM sites or sites with offensive content.
The quality of an awareness link popularity building campaign lies not in the number of submissions but quality, theme, anchor text and click ability of the links. Anyone can submit your site to the hundreds of useless link farms hurting you instead of helping you. There is no substitute for expertise and diligence. We increase site awareness through expert link building at an affordable cost so that you can easily outsource link building to our company in Delhi India.

Useful Links

There has been a Link Popularity Building Craze that has spawned thousands of directories, blogs etc. just for the sake of selling or trading links attempting to artificially influence SERPs. Is it possible that (for search engines) a link's (vote's) importance goes down if no one ever clicks on it? We place your theme based links only in quality web positions because the true objective of a Link is to invite potential customer's to click on it.