Web Portal Development Company in Delhi India
Centaurhosting, a web portal development Delhi India company has more than a decade of experience in custom or bespoke web design and development using PhP MySQL. We offer complete B2B and B2C web portal solutions using latest technologies. We don't just execute projects, we help build branded online communities through applications. In the click-and-mortal economy of today, web portals have become platforms for "anytime-anywhere access" for the purposes of information delivery, business process automation and effective global communication through inter-connected web services and devices. A web portal does not just provide information, products or services, but it is also a powerful medium to attract and hold the attention / loyality of users.

Web Portals allow companies to deploy customer, consumer or community Internet sites, provide a centralized full-service starting point, offer a full range of web services including web applications and ecommerce and offer support for a customized and well integrated eBusiness hub. Combining knowledge of web portal development and experience in enterprise web application development, our experienced Web site Portal Development team builds customized products according to your business requirements.
TYPES OF WEB PORTALS WE DEVELOP
Enterprise portals:
A web-based interface for enterprise level applications andcorporate database driven information systems helps a company to supply desired information to the public and allows business interaction with target segments related to a particular business or industry. Enterprise web portals help a company market its products and services on a global platform. Enterprise horizontal and vertical web portals help a company market its products and services on a global platform.
Community portals:
These are web portals for regular communication with customers and to generate global awareness regarding products and services. Community portals allow proper translation of relationships and business development opportunities.
E marketplace portals:
Platform for buyers and sellers together to trade on the web. Ecommerce portals allow multiple product catalog displays, online transactions, bid and quote, auctions etc.
Knowledge portal development:
Primary focus of these is knowledge management i.e. Collaboration and Document Management.
Vertical Web Portal Solutions:
Offer packaged applications and functions on one theme.
Social Networking Sites
Web Directory Development
Travel Portals
Job Portals
Matrimonial Portals
News Systems
Real Estate Portals
Entertainment web portals
OR
PHONE: 91-120-4574224
OR
SKYPE: CENTAURHOSING
OUR WEB DEVELOPMENT AND DESIGN SPROCESS
Successful web portal design and development provides a pleasant experience and are a blend of aesthetic user interface design, quality information, proper categorization, advanced search etc. Our web portal development process includes:
Strategic Business and Requirement Analysis
User and Admin Interface Design
Database Structure Design
Module Development and Integration
Integration with third party applications and payment gateways
Quality Assurance and Bug testing on Local and Live server
Launching and confiuring the web portal
Performance Optimization
Training and collecting feedback
Responsive after-launch Support
What puts Centaurhosting apart from another web portal development company in India?
Experience:
Our web site developers and designers have required qualifications and a lot of experience in the relevant field. Web Application Design is created in such a way that due importance is given to database design, which is a key factor for performance.
Research based Customization:
How valuable would it be to employ someone who could not understand how your business works? Readymade software usually does not allow a business to have the flexibility or customization needed to survive in a competitive environment. We undertake a full study of your business in order to identify the required functionality and increase your levels of productivity and customer service.
Cost:
Apart from the high quality offshore web development services, the cost offered is very genuine. Being based in New Delhi, India we can offer custom web portal development at nearly one-third of the cost in US, UK, Australia and Canada.
After-sales-support:
While our insight, long experience, and unparalleled web technologies can lead your business to scale new horizons, our support team thrives on exceeding client expectations by providing the best possible after-sale service available.


Quick Query
Recent Projects
Case Studies
Bid based job portal





Video sharing portal




Multi-Lingual travel portal
Fair Pricing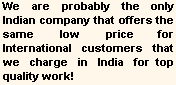 We understand that your web presence is critical to your business. If you are looking for the service of a reasonably priced custom web portal design and development company Delhi India, then you've come to the right place.
VIEW OUR
Useful Links