Flash Website Design Development Presentations Company Delhi India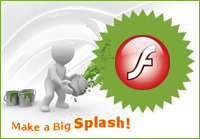 Centaurhosting offers Flash website design, Flash web development, Actionscripting and CD Presentations from Delhi India. Whether you are a direct client looking for Flash animation work or a design / advertising agency looking for developers to help express your creative genius, we can help.
For more than a decade, we have been offering Flash animation, Flash development, Flash presentations, Full Flash websites and Action Script services customized according to business requirements. Our client base is mostly in UK, Australia, USA and India. We have a team of expert visualizers, Flash Actionscript developers and animators who use the true power of Flash to bring functional form to your vision.
From simple image-enhancing Flash animations and websites, highly advanced online Flash applications to Corporate CD multimedia presentations, we have a synergical combination of expertise and comittment to unleash the true power of Flash. Combination of world-class creativity with programming skills allows us to offer functionality that is delivered with impact.
We are probably the only Indian company that offers the same low price for International customers that we charge in India for top quality work. We understand that your web presentation is critical to your business. If you are looking for the right presentation and impact, then our Flash website design and development company in Delhi India can offer services of highly skilled Flash web designers.
OR
PHONE: 91-120-4574224
OR
SKYPE: CENTAURHOSING
Our Flash web site design service offerings include:

» Full Flash websites with CMS (allows you to update the animations with simple clicks)

» Flash Development, Actionscripting and Games

» Flash banners and animated logos.

» Corporate Flash CD Presentations.

» Flash E-books.

» Flash digital catalogues on CD

» PowerPoint to Flash conversion.

» Flash company intros

» Action-script 2.0 / 3.0 coding and development.

First impressions are more important online than they are offline. Flash Development and Animation results in stunning eye catching presentations, audio and visual effects that capture customers the same way as Angelina Jolie attracts men! Full Flash websites, animated banners and Flash logos have a dramatic effect on your website visitors. Flash is the ultimate tool for brand recognition.

Get started today!
Quick Query
Recent Projects
VIEW OUR
Useful Links