Web Hosting Data Center Specifications and Network Information
Centaurhosting currently operates through state-of-the-art data centers in USA. Tier-one facilities that provide well above 2.5 gigabits (OC-48) of bandwidth per second via fiber-optic connections. Inside the facilities, Telco-grade racks and wiring are used as well as reliable power backup and industrial-grade cooling facilities.
All servers, lines and network equipment are as safe as possible from accidental or intentional harm. Entrance to the rack rooms/collocation facilities is possible only through one secured location, with security officers on-duty 24 hours a day.
The equipment rack rooms are situated in physically secure locations, with industrial cooling systems augmenting the room's air conditioning for heat reduction. The racks themselves are highly insulated and impervious to electrical surges up to direct lightning strike shocks.
All systems are monitored 24 hours a day, 365 days a year to provide you with peace of mind. As a premium provider we pass along to you some of the highest speeds and pings available. We do our best to prevent poor quality, network problems or overall poor experiences for our customers.
NETWORK TOPOLOGY
Robust LAN architecture to facilitate the ease of maintenance and hands-on support while providing high-speed, low-latency connections.
Our high-speed servers are connected to core Cisco Systems Catalyst 5500 switches. The core switch is directly connected via Gigabit Ethernet to high-end Cisco 7500-series backbone IP routers, which lead to multiple clear-channel 45 Mbps T-3, 100 Mbps FDDI or fiber OC-3 lines to the Internet.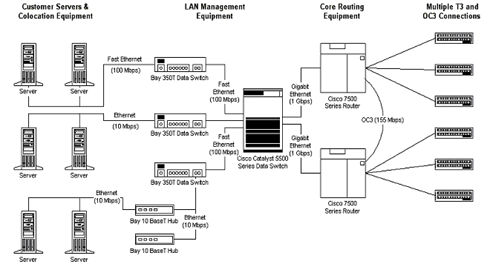 Intelligent switches and Layer-4/Layer-5 advanced switching gear to provide Quality of Service (QoS). Only Cisco's premier high-end platform of multi protocol routers are used. These systems combine Cisco Systems' proven software technology with exceptional reliability, availability, serviceability, and performance features to meet the requirements of today's most mission-critical Internet-works.
POWER REDUNDANCY


PC DP340E mainframe battery

Two levels of redundant power supplies to ensure that Internet services are not disrupted by electrical outages. In this manner, the data center can provide power for its services indefinitely in the case of a severe power outage.

The first level of power redundancy support is an APC DP340E mainframe battery that activates in less than one tenth of a second after power loss. This battery, with an output of 40 kW/40 kVA at 3 x 280 volts, can by itself provide power for more than three hours.





SD060 liquid-cooled gas generator

Main line of defense against outage are external SD060 liquid-cooled gas generators operating at 225 amps. Within minutes of the APC battery activation, the generator is activated.

The combination of our APC mainframe battery and SD060 generator give essentially unlimited power capacity.





Challenger 3000 Liebert

Cooled by Challenger 3000 Liebert air conditioning units, which offer 5 tons of cooling capacity in less than 7 feet of floor space. Liebert units easily augment the building-controlled and auxiliary air conditioning already in place.



Useful Links
Data Center Specification



World Class Data Center


Responsive Support


Free cPanel control panel, pam blocking, Tutorials, PhP, CGI, FTP, Perl...


All servers maintained by experienced professionals in New Delhi, India and USA.


Several years of experience.

Domain Name

+
Web Hosting
+
Mail Accounts
+
Web Designing
+
Web Promotion